If you purchase an item after clicking a link on this site, we may receive a commission at no extra cost to you. Learn more.
Are metal wallets any good? What are the pros and cons of metal wallets vs leather wallets?
We've seen a big increase in the number and variety of metal wallets on the market since the advent of the Ridge Wallet in 2013. But how do they stack up in practice against the traditional leather wallet?
We decided to put all the questions we've received (and others we asked for ourselves) together to go through the pros and cons once and or all, and we'll also show you some of the best metal wallets (in our humble opinion) on the market today. Enjoy!
Metal Wallets vs Leather Wallets
What do we mean when we say "metal wallet" anyway (or "leather wallet" for that matter)? There are a range of styles of metal wallet, but we think you can break them down into two main types:
Box or Tactical
The Box Wallet. This is essentially the 'Ridge Style". It's a metal frame, typically just two plates each large enough to cover a credit card. The two sides are held together by a fixed or flexible mechanism (many are simple elastic-band like features). Access to the cards is by some sort of ejector mechanism, typically pushing up with your thumb
The Tactical Wallet. Still typically minimal in overall size, a tactical wallet takes it up a notch by adding extra features ranging from bottle openers to compasses – think of a Swiss Army knife merged with a wallet
Weight
Both of these major metal wallet styles are minimalist in nature. This isn't surprising when you think of the weight of a hunk of metal. Even if shaved really thin (which negates one of the main features of a metal wallet, its strength and durability) it's still going to weigh more than a leather wallet.
Summary of Pros and Cons
We went through the main differences between metal and leather wallets and this table below is a summary of what we think the main points are, with our take on pro vs con:
Leather wallets are soft and pliant, metal wallets can snag on clothing and can
get extremely hot if left in the sun
Both leather and metal wallets can be found in a wide range of materials, quality, and from a wide range of brands. The price ranges accordingly from inexpensive to "the sky's the limit"
Both metal and leather can get scuffed and scratched. Leather can last a long time if cared for, but metal is clearly more durable than leather over the long haul
Leather should be treated with a good conditioner every so often, and not left in direct sunlight. Metal requires much less care (depending on the exact material), although polishing every so often doesn't hurt
Hard one to answer – the traditional leather wallet comes in a wide range of styles, but the metal wallet can be a tactical wallet, a box wallet, … lots of possibilities. Given the extra weight of a metal wallet though, they all tend toward minimalism, which limits the range, so we'd give this to leather by a nose
All right, let's go through the list shall we? We'll come back to a buyer's guide later in the article.
The Best Metal Wallets – Our Top 6!
For those that are all "Just the facts, M'am", here's a quick table covering our Top 6. The full reviews are after the table. (OK, Spoiler Alert – there might just be one or two bonus wallets in there too …)
Packed full of extra features
Giving the Ridge a run for their money!
Love the merging of style and function
OK, let's jump right in!
---
Trayvax Element Wallet
Dimensions: 4.5 x 2.8 x 0.5 in
Empty Weight: 3.5oz
Available in a variety of different red, brown and black colors, the Trayvax Element Wallet comprises a stainless steel rugged frame enveloped in oil- tanned, top grain leather. This compact wallet can fit 3 to 10 cards in it and 1 to 5 bills.  The high-quality product also comes with a lifetime warranty fixed to it.
As well as the wallet functions it is also packed full of extra features including bottle opener, money clip, attachment point and RFID Protection.
A perfect wallet for the guy on the go, who requires a wallet slimline enough to fit comfortably in any pocket, tough enough to sustain any outdoor pursuit or activity, and yet stylish enough for everyday use.
---
Dimensions: 3.39 x 2.13 x 0.24in
Empty Weight: 3.04oz
What can we say about the Ridge? Quite a lot actually, we wrote a whole article on the Ridge Wallet.
With navy Anodized front and black plates, stainless steel screws, expandable elastic strap and RFID Blocking aluminum plates this navy metal wallet is a beautiful option from the Ridge range.
You can to choose between elastic cash strap or metal money clip, on the outside of the wallet. The Ridge has the ability to hold up to 12 cards without stretching any of the components.
With replaceable elastic and a lifetime warranty, the Ridge Wallet is the original metal box wallet, to the extent that many people search for "Ridge wallets" when they really mean "metal wallets" (but … see below).
---
Dimensions: 3.39 x 2.13 x 0.31 inches
Empty Weight: 2.6 oz
Now this little beauty from Axwell Wallets may just be the one that topples the Ridge from its perch.
To make this a fair comparison, this is the navy blue aluminum version from Axwell. Unlike the Ridge, Axwell wallets come with both a money clip and cash strap as part of the package. The outer plates clamp tightly to the frame with strong magnets, making them simple to remove and replace the strap with the clip, or vice-versa. Much easier than the Ridge's "get your screwdriver out" approach.
They are extremely solidly made, beautiful in design, have a lifetime warranty on everything (including the elastic), and can also hold up to 12 cards. We'll be keeping a close eye on this range.
Check out our full review of Axwell Wallets here. Don't miss that gorgeous copper version….
UPDATE: We scored a discount for WalletShoppe readers – enter THEWALLETSHOPPE at checkout for 10% off!
---
Ogon Stockholm Wallet
Dimensions: 4.33 x 2.76 x 0.8in
Empty Weight: 2.5oz
The first designer wallet to use aluminum, the Stockholm wallet is compact, light with its contents accessible with a mere glance.
Perfect for both men and women this wallet will fit securely in a handbag or a pocket. The Stockholm can hold up to 10 cards and banknotes and provides RFID protection.
The modern and distinctive style is made from anodized aluminum and poly-carbonate, and at the time of writing was available in eighteen(!) different colors and styles.
---
Dango Dapper 2 EDC Wallet
Dimensions: 4.4 x 2.63in
Empty Weight: 2.5oz
Made with aerospace-grade aluminum, the Dango Dapper 2 is nickel-plated, then polished and assembled by hand in the USA. This beauty comes with a top-grain leather finish that is secured to the Dango Dapper chassis with military-specification bolts.
Note that this wallet is compatible with the MT02 Multitool which is sold separately and makes a great enhancement to an already fantastic product. 
---
Sharkk Aluminum Card Wallet
Dimensions: 2.75 x 4.25 x 0.75 inches
Empty Weight: 1oz
Stylish, sleek, and rugged makes this wallet by Sharkk is made from a high grade plastic with a lightweight aluminum shell.
The result is a wallet that weighs less than an ounce when empty, but is still tough enough to cope with whatever life throws at you. Whether you're looking for a wallet for an active lifestyle, or just something that looks cool at a good price point, this is a great option (and it comes in at least five different color options too).
---
BONUS WALLET! – ElephantWallet N3D Metal Wallet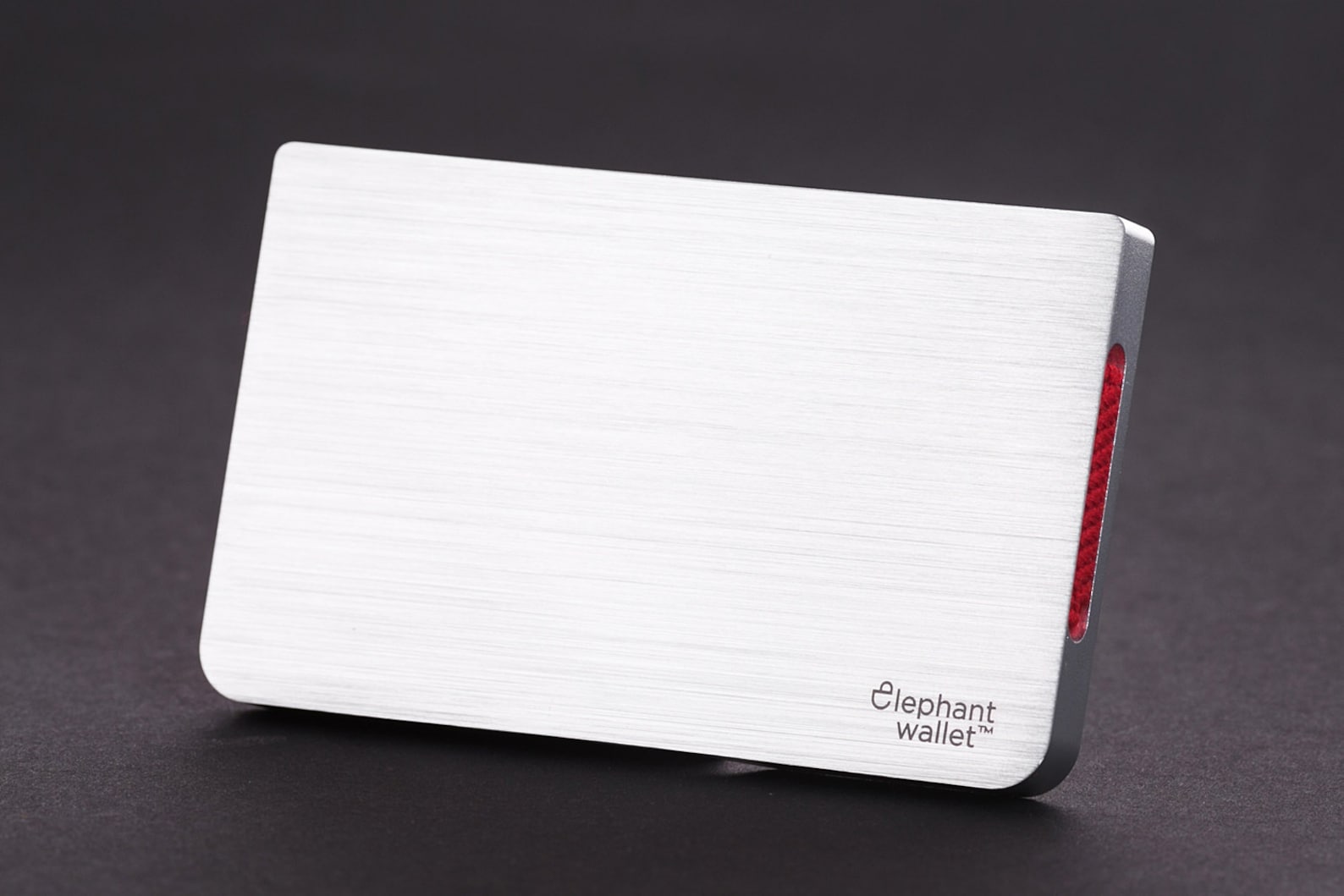 We promised you bonus wallets, and this little beauty is the first!
The N3D is a unisex metal wallet comprised of anodized aluminum, rubber, metal and elastic. It comes in a choice of black or brushed aluminum, with a scratch resistant coating. The consumer can choose a wide variety of colors for the fabric strap on the N3D. It can hold up to 9 cards and has RFID blocking.
The wallet has no fancy frills, it is just a simple clean design, however, it is strikingly eye-catching and is an absolute must for anyone who likes elegance, style and grace.
---
BONUS WALLET 2 – Decadent Minimalist (DM1) In Titanium
OK, this DM1 Money Clip seems to be aiming for the title of "most minimalist!"
It's comprised of a single piece of laser-cut brushed Grade 5 Titanium, and comfortably holds access cards, ID cards and credit cards.
It can be used separately or with the DM wallet. When used with the wallet will only add less than .25 inches to the width of the wallet, and will only use the space of one credit card when attached.
There are no unnecessary screws, hinges, magnets, snaps, straps or rubber bands, just the simplistic stunning design. Even without the DM1 Wallet, this simple money clip will appeal to minimalists or anyone who is going somewhere without wanting to take a full wallet or every card with them.
It may just be the end of the line for the evolution of the minimalist wallet!
---
Buyer's Guide
At the end of of the day, whether you choose leather or metal comes down to a personal decision largely dictated by how you will use your wallet.
If you want to carry much more than a handful of cards and maybe a couple of notes, then you're probably going to want to go for a larger wallet, or a longer wallet, and that calls for leather, either a high-quality true leather, or a vegan leather material
If you are looking for a cool, minimalist style, a metal wallet in the Ridge style is a great choice. See our review of the Ridge and its main competitors, or take a look at some inexpensive alternatives
If you're looking for something that carries out more functions in an emergency than a regular wallet, then you're looking for something tactical, and most of the best of these are made from metal
That's our round-up. Hope you enjoyed it! We'll leave you with this set of frequently-asked questions below.
FAQ
Do Metal Wallets Block RFID?
Typically the answer is yes as metal will block RFID readers – but not always. If the wallet is a simple shell which reveals a lot of the card (a design which makes the metal wallet lighter), the RFID chip may be exposed and hence read-able
Do Metal Wallets Damage Clothes?
This depends on whether your metal wallet is tactical in nature, with extras that can snag on clothes, or a smooth shell. A reputable manufacturer will have considered this (it's not a surprise people want to put a wallet in their pants pockets!) so this is not usually an issue except perhaps. for knock-off brands
Do Metal Wallets Damage Credit Cards?
Most metal wallets are specifically designed as card holders, so it's unlikely a reputable manufacturer would design a wallet that actually harmed a card! Many specifically have an extra layer of protection on the inside that actually comes into contact with the card to provide extra cushioning
Are Metal Wallets Uncomfortable?
Due to their rigid design and the way they hold temperature, they can be. They can feel like an ice cube on a cold day, so you'll need to store them in your jacket pocket. They might burn your skin on a hot day, especially if they are directly exposed to sunlight
Are Metal Wallets TSA-Compliant?
Many metal wallets will set off a TSA metal detector or show up on the X-Ray so you'll want to take the wallet out and place it in the tray for watches, jewelry etc. That way the agent will be able to see it easily and won't have to pull you aside to open your bag. The only metal wallets that may cause issues are the tactical style, especially if they have any kind of blade or even a sharp bottle opener.
Are Metal Wallets Heavy?
There's no question metal is heavier than leather. For this reason, most most metal wallets are basically card holders. They are heavier than a leather card holder but their small size means they are not terribly heavy overall
Are Metal Wallets More Durable Than Leather Wallets?
Both metal and leather can get scuffed and scratched. Leather does require a little more TLC to keep it looking its best, but (depending on the exact material) both can develop an attractive patina over time
All product names, logos, brands, and trademarks are the property of their respective owners
Last update on 2023-02-07 / Affiliate links / Images from Amazon Product Advertising API